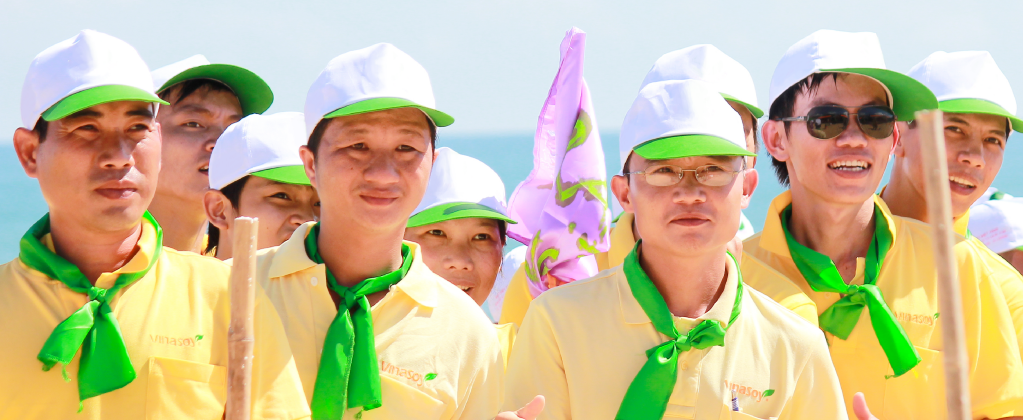 What do you have for join VINASOY ?
Working environment
At Vinasoy we are proud of our selective working environment. You will have the chance to work with other dedicated employees, eager to meet the challenges of work and life. Our employees have a reputation for being creative and driven, always working to overcome obstacles and further the growth of Vinasoy.
Opportunities for training and advancement
In accordance with our mission to build a team of skilled and professional employees, training and advancement support have been given top priority at Vinasoy. At present, Vinasoy is implementing a policy of intensive internal training, including special programs for new recruits to aid with the transition, as well as internal management courses and outsourced training for partners and affiliate organizations.
Company culture
We respect traditional cultural values and ensure a balance between work and family life. Arising from the motto of the board of directors, "Improvement of the self, management of the home, governance of the State, and peace for the world", we recognize the greatest value of VinSoy is our people. A strong workforce is built from individuals and families, and radiates outwards to society.
We endeavor to achieve unity of action supported by a shared purpose, with the understanding that those who walk with speed guide those who take the journey more slowly.
Bonuses, awards and other support
Able to react quickly to changes in the market, Vinasoy can provide needed support for lunchtime meals and certain unforeseen needs. All of our employees receive social insurance benefits in accordance with the law, In addition, Vinasoy has a number of award programs to encourage employees who put in that extra effort.
Bonuses for exemplary units and individuals
Bonuses for creative ideas and clear progress
Bonuses for the lunar new year holiday and National Day
Trade union
The Vinasoy Trade Union has grown quickly alongside the union of the Quang Ngai Sugar Company. Each year, in addition to organizing holidays for employees, the union is active during special days, including the mid-Autumn festival, women's day, various birthdays — as well as supporting those employees who have met with illness and other personal crises. Through these actions, the trade union has fostered a spirit of support and unity among employees.