Mid Autumn Festival gifts for disadvantaged children
Group visits were organized to centers supporting orphan children, disabled children, and other disadvantaged children in Rehabilitation center Hanh Thien, hamlet Deo, Hang Dung commune; Buddhist temple Pho Quang in Quang Ngai city; Rehabilitation centre Binh Hoa (Binh Son), and Orphanage Phu Hoa.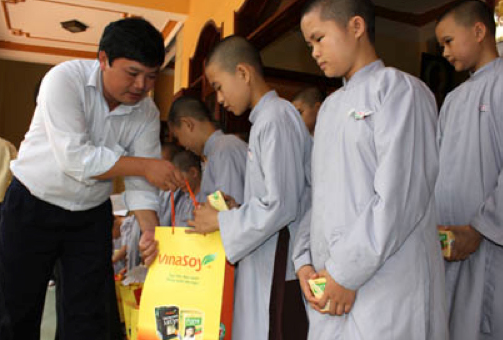 Presenting gifts to orphan children at the temple in Quang Ngai
These gifts and accompanying warm words of support provided children with a sense of care from society at large, resulting in strengthened ambitions to overcome difficulties and contribute to Vietnam's development.
* With the Mid Autumn Festival fast approaching, visits were organized to present gifts to disadvantaged and disabled children in several areas, from the 25th to the 29th of September.
Government organizer Truong Dinh Duc presents gifts to children at a rehabilitation centre in Nghia Hanh commune.